Workshops & Philosophy
Workshops:
UPCOMING: Exploring as a "Forest Flaneur" Sept. 2019
Chamonix-Mont-Blanc, France 11.09.19 – 12.09.19
Introduction, visual/tactile walks and creative expression (day one) 13:00-19:00
Tactile walk, creative expression and informal performance (day two) 09:00-17:00.
Partner: TSEOG
Temporal School of Experimental Geography is an itinerant network of artists sharing ideas and responses to landscape through fieldwork (https://tsoeg.org/).
This is a workshop programme exploring the impact of tactile perception on the artist's process.
The Forest Flaneur method arose from a practiced based doctoral thesis in studio art exploring the impact of tactile perception on the artist's creative process. This workshop programme led by Rosalinda Ruiz-Scarfuto introduces the participant to how the tactile memory dynamic is ignited through gentle engagement of the finger pads and intuitive movements in a rural setting. Layers of perception are added as the sessions unravel on a journey into the wilderness. First the visual aspect of an ecosystem is explored as a baseline of the space, thenthe tactile perception layer invites a focus to details. As each participant follows their own random mode in situ, Nature reveals its inner core through attraction.After the walks, a quiet gestation period in solitude allows the tactile memory to become embodied in our essence. Finally, sharing our investigations in joint collaboration, enriches the empathy to the environment and ourselves combined.Be pleasantly surprised to indulge in nature's call "to touch and be touched."
SCHEDULE & DESCRIPTION
11 Sept. 1-5pm (two sessions) – half day
Introduction to Forest Flaneur methodology and tactile perception in relation to the creative process (indoor). Take a group visual walk as a baseline to feel the space of the ecosystem in the afternoon. Have a break to contemplate. Then join the leader on a short tactile walk (outdoor) to understand gentle touch using our finger pads. Later, creative expression (indoor/outdoor) in solitude.
12 Sept. 9am-5pm (three sessions) – full day
Morning tactile walk, random movements in Nature based on individual attractions to natural elements (outdoor) in silence. Then, time for creative expression (solitude) and finally share our expressions informally and open the group to join for a performance (collective).
The afternoon of the 11thwill be the introduction to the Forest Flaneur methodology and visual walk as Sessions I & II (1-3pm), break, then the first part of Session III (3.30-4.30pm) short intro tactile walk.First part of session IV(6-7 pm) creative expression hour (individual), no performance.
The morning of the 12th will be the second part of Session III, another longer tactile walk (9-11am). After lunch (1-2 pm) the second part of Session IV, creative expression (solitude), tea break, and last Session V, (3-5 pm), share informally and performance (collective).
Logistics:
The nearest airport to Chamonix (France) is Geneva, Switzerland – or many trains arrive at the main station in the city close to the airport.
From the Geneva airport the Easybus service is direct to Chamonix main bus station. From Chamonix you go up to the village of Argentiere. (Consult times to coincide with your flight).
Note: September is the interseason in the valley, so try to arrive in Chamonix before 5pm as buses and trains are run on a limited service. Wait at the bus station for buses up to Argentiere, or, a short walk away there is a train service up to Argentiere – check timetables for both. A private taxi from Chamonix to Argentiere is around 60€, whereas the trains and buses are a couple of Euros.
Accommodation: The Gite le Belvedere –is a dorm style hostal and it is a short walk from the bus stop at the train station (5-minutes).
Note: the workshops start at 09:00 from the gite, so it is best to arrive at least by 08:45 each day if you decide to stay elsewhere in the village.
Note: each participant accepts responsibility for booking travel, accommodation and making their own insurance arrangements.
I will be leading the activities for my workshops (not mountain guiding), therefore you will be asked to sign a waiver form each day before we set off.
We will be walking, sitting and standing – please make sure you have a good pair of comfortable shoes or boots, and comfortable clothing.
Also, the weather can be variable – please bring sun cream / waterproofs just in case!
GENERAL WORKSHOP INFORMATION:
Tactile perception and creative process for language development, creative writing and art worksops are available internationally for children, teachers, and adults.
Past highlights involved joint public art installations (gallery), artist creative expression in Nature (outdoor) and poetic appreciation in the classroom extended to art (schools). Touchable art in museum and gallery settings is attractive for audience participation and allows for organic development of the installation over time. Expanding poetry to the 3D canvas engages students in cultural heritage beyond the printed page.
Consulting/New Projects:
A network of international artists and digital experts emerged during the research project and are available for projects involving public art, especially installations and workshops for enviornmental awareness or even to re-direct tourism flows to avoid saturation of a destination. We intend to add value to the tourism, education and museum sectors.
Re-Bound is available to take on new projects that involve installations and audience participation. We are aware of the immense role social media plays in today's digital world and vitural reality dynamics that change a landscape. We offer workshops to children and adults to accompany the art installation.
The audience participation in art installations was an added value to the original project and served to extend the meaning of "public art." Temporary, organic art installations that combine fixed objects with audience participation were an exciting outcome to watch how they played out.
Philosophy:
This research project was supported by the University of Sunderland, W.A.L.K. research centre in the Art, Design and Media department with Mike Collier and Brian Thompson as my PhD directors.
This research project has key points that adhere to the paradigm shifts in philosophical thought, namely movement, perception, the body and art. Although since the Greeks Western philosophy has wrestled with these topics, the component of tactile perception inspired from Nature transformed into a 3D poetic canvas ---sculpture---has not been sufficiently investigated as an artistic creative process or its consequent empathy from public viewers. The closest proximity is Merleau Ponty's phenomenological perspective due to its focus on perception from a holistic viewpoint that acknowledges tactile perception in a visual space. However, I will utilize Ponty's philosophy as a base of the project due to his achievements in merging the body and mind as a holistic view of consciousness. In addition, I drew on Maria Zambrano's Poetic Reason that gives the space between the heart and the mind to express a resonance of Nature.
This research project extends Ponty's phenomenological existentialism into the tactile perceptual world more deeply and I will attempt to draw on it for a creative process as central to the project, rather than tangential. Ponty refers to tactile perception as part of kinaesthetic sensations beginning with "touching and being touched" as a double sensation, marked by psychologists and Husserl. Nonetheless, Ponty ranks visual perception higher than tactile in the overall field of perception. Ponty does not ignore the tactile perception cues, but rather argues against the "separation of the senses" in order to form a holistic view of perception.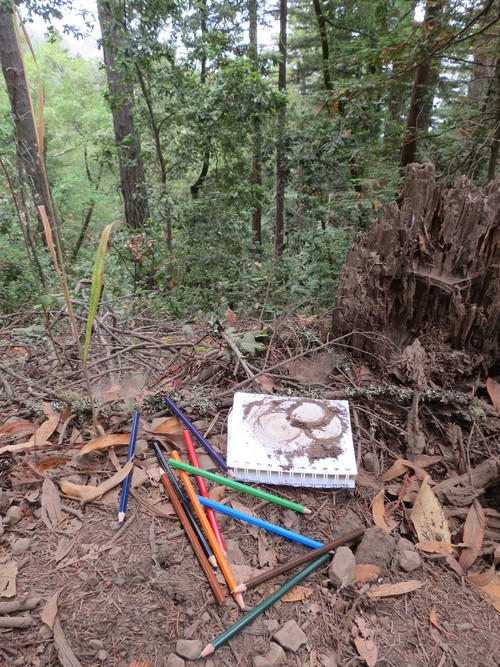 Forest Flaneur Sketch pad